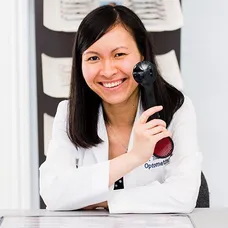 Dr. Thu Tran was born in Saigon, Vietnam and knew not one word of English when she immigrated to the United States as a child. After growing up in Friendswood, Texas, she went on to become the University Interscholastic League Spelling and Vocabulary State Champion and the Valedictorian of her Friendswood High School graduating class.
Dr. Tran obtained her Bachelor of Arts degree at the University of St. Thomas and her Doctor of Optometry degree at the University of Houston College of Optometry (UHCO), graduating with honors from both institutions. Outside of school, she participated in various community service projects, such as volunteering at homeless shelters and singing the National Anthem at a local Special Olympics.
While at UHCO, Dr. Tran received many scholarships and awards, including the Presidential Graduate Fellowship and the Clinical Letter of Excellence in family practice optometry. She was inducted a member of the Beta Sigma Kappa International Optometric Honor Society, and her Grand Rounds research paper was selected for publication and distribution to the Institute of Optometric Practice.
Prior to establishing Friendswood Vision, Dr. Tran completed internship rotations and practiced optometry at different Houston offices. She has extensive experience in full-scope optometry, from performing comprehensive eye exams and prescribing glasses and contact lenses, to treating eye diseases such as glaucoma and macular degeneration, to co-managing LASIK and cataract patients. She is a licensed Therapeutic Optometrist and Optometric Glaucoma Specialist and is a member of the American Optometric Association and the Texas Optometric Association. She speaks fluent English and Vietnamese, as well as basic Spanish.
Outside of the office, Dr. Tran likes to sing, play the keyboard, watch movies, and work out. Ask her what accomplishment she is most proud of and she will say that it is fostering unwavering relationships with her loving family and caring friends, without whom she would not be the person she is today. She feels blessed to be living the American Dream with her loved ones.