---
Hoan Trinh (otherwise known as "my husband Hoan") is Dr. Tran's husband as well as her office manager and certified optician. Before meeting Dr. Tran, Hoan practiced law as well as professional wedding photography in Connecticut. Seeing that the pool of well-trained and seasoned opticians was almost non-existent (who knew?!), Hoan decided to take up classes at San Jacinto College to learn opticianry in order to ensure that Friendswood Vision would always have the highest quality staff available to measure and fit your glasses. With the completion of his optician certification at San Jac, and having interned at some of the most prestigious opticals in Houston, Hoan is well-versed in various disciplines. For instance, he is very adept at repairing and adjusting complex eyewear like Silhouette frames, making intricate adjustments to prevent one's eyelashes from touching his/her lenses, and verifying that glasses with prism are made properly from our lab. Being a nerd at heart, Hoan loves to research financial planning and strategy, technology, and as of recent, Transitions lenses (he now has three different types!). He also enjoys working out, watching movies, and traveling with Dr. Tran.
---
Susan Lucchese is our receptionist and insurance coordinator. She is a native Texan who grew up in Dickinson and now resides in Pearland with her loving husband and two adopted dachshunds. Susan brings to our office over 25 years of experience in the medical field. She chose the medical field due to her love of helping others.
She has specialized in aiding people with disabilities, hospital level administrative and clerical work, supervising and assisting patients with physical rehabilitation, and surgery scheduling for a level II trauma hospital. Susan enjoys music, movies, traveling, and spending time with her friends and family.
---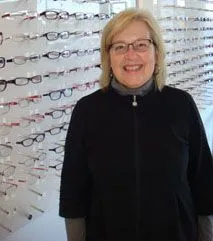 Cheryl Reel is our receptionist and optician. She was born in Connecticut but had lived most of her adult life in Kansas City, Missouri before relocating to the Houston area in 2012. She attended Southwest Baptist University in Bolivar, Missouri and completed her Associate of Arts Degree at Metropolitan Community College in Kansas City. After two years of planning their big move, she and her husband are thankful to be putting down new roots in this area.
Cheryl obtained her optician certification in the 1980s and brings with her ten plus years of experience in different optical environments, both in Kansas City and Colorado. Though a career change took her into the travel field, Cheryl has returned to her optical roots here at Friendswood Vision. Like Dr. Tran, she enjoys getting to know each patient personally as she guides them through the products and services that are best-suited for their eyewear needs.
Outside the office Cheryl enjoys hanging out with her husband, as well as cooking, reading, anything involving a great cup of coffee, and spending time with family and friends.